Work With Me
If you have questions, inquiries, or you may want to share tips and recommendations, please feel free to get in touch with us through any of our social media channels, email (ivankhristravels@gmail.com).
Work with Dad On The Move
This blog is open to collaborations and partnerships, press familiarization trips, giveaway announcements, product launches, hotel reviews, food and restaurant reviews, social media promotions, and travel product reviews. Send us an inquiry and we will reply promptly.
If you are still undecided and want to further evaluate the quality of our work, you may want to
subscribe to Dad On The Move
to receive regular post updates. We also post regularly on Facebook and Instagram so be sure to check these out, too.
Media Kit
Dad On The Move Media Kit
by Ivan Jose
Brand Collaborations
We are proud to have worked with some of the most notable local and international brands. These brands are the following:
Alaska
Ariel Detergent
Bayani Brew
Big Oven
Bioderm
Bioflu
Canon
Chicken Stop
Clearex
Coms360 and Page One
Ed & Kes soap
Glorious Coffee
GPSMyCity
Home Foodie
Human Nature
Jord Wood Watches
Kidloland
Kleenfant
Lady's Choice
Liang Crispy Roll
Lola Remedios
Lumina Homes
M2 Malunggay Tea
Malayan Insurance
Medic Hair
Novellino Wines
Old Spice
Realfit Gopods E5 Earbuds
Rodolfo Pizzeria
Trulife Digestipro
URC
Vince Dizon
Wise Cleaner
Yellow Cab
Published Works
Some of our written works have been published in the following respected publications:
…Very tasty and immensely addicting to eat. This nut, however, is way too pricey for me when bought from a local store. But if purchased abroad, it's a dime a dozen. That's why Nanay would always buy tons.
Tutuban's Old Glory: Travel from Manila to Dagupan Via Train
Anvaya Cove: Spend Leisurely Weekends At Morong's Secluded Piece of Heaven
Explore Dumaguete City Like A Local In One Day
Behold Manjuyod Sandbar, Negros Oriental's Gem
What makes someone a traveler?
Parenting Life Series: Ivan Jose of Ivan + Khris' Travels
Citations
Dad On The Move
is mainly a blog that chronicles my family's travel experiences, as such, we are immensely proud to have received the following recognition: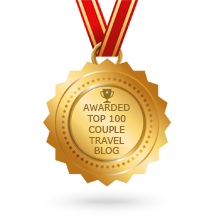 Email and Social Media
Email: ivankhristravels@gmail.com
Facebook: Facebook.com/dadonthemoveph
Twitter: Twitter.com/dadonthemoveph
Instagram: Instagram.com/dadonthemoveph
Pinterest: Pinterest.com/dadonthemoveph
Contact Form
You may also send us a message via the contact form below: